Artist – Polenov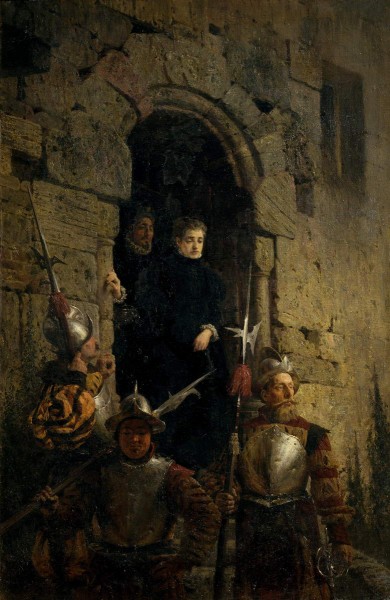 After graduating from the Academy of Arts, having received a large gold medal for the program "Resurrection of the daughter of Jair" (simultaneously with Polenov, for the same program, the gold medal of the highest dignity received and.Repin), Vasily Polenov went on a pensioner trip to Europe, 1872–1876 he spent in Paris.
Among the works created during the Paris period are historical stories and landscape works resembling barbison. "The arrest of the Huguenots Jacobin de Montubele" belongs to historical canvases close to the Western Late Academic Historical Painting. For this picture in 1876, Polenov received the title of academician.
In October 1875, Grand Duke Alexander Alexandrovich, traveling around Europe, made a stop in Paris. Despite the short duration of his stay, he managed to visit the workshops of most young Russian artists who then worked in the French capital: Viktor Vasnetsov, Ilya Repin, Konstantin Savitsky and Vasily Polenov. Polenov's painting "The Arrest of Huguenoka Jacobin de Montubebel, Countess D'etremon" was acquired by the Grand Duke and was in his collection in the Anichkov Palace. The work corresponded to the artistic preferences of Alexander Alexandrovich, he liked the plot entity, calm colorful harmony, the lack of a bright picturesque maestria, which he did not like in the works of modern Western masters.
The repetition of the same name (1919) is the Polenov Museum -Reserve.
Jacobin de Montebel, Countess D'Etremon (1541–1600) – second wife of one of the leaders of the Huguenots Gaspara de Coligne. Huguenots in France in the 16th century called Protestants (Calvinists). Gaspar Colini, statesman, admiral, was one of the leaders of the Huguenots during religious wars in France. He was killed during Bartholomew's night (the massacre of the Huguenots in France, arranged by Catholics on the night of August 24, 1572, on the eve of St. Bartholomew's Day). According to various estimates, about 3,000 people died in Paris on this day, and about 30 thousand guuguenots were killed throughout France in the pogroms throughout France.