The artist is Repin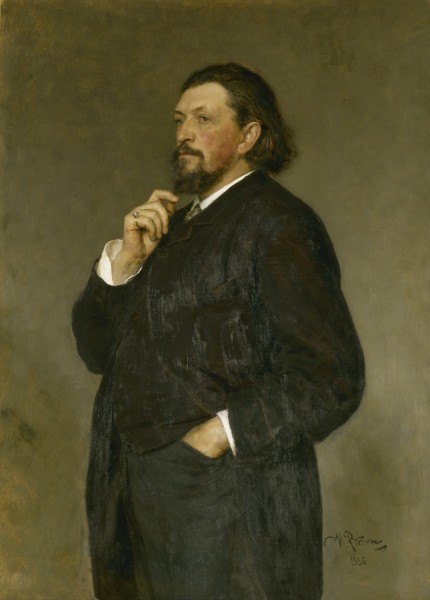 Belyaev Mitrofan Petrovich (1836–1903) – timber prisoner, philanthropist, musical figure, founder of the Belyaevsky circle, uniting many outstanding musicians.
Born in the family of the famous St. Petersburg forest manufacturer, merchant of the 1st Guild, commerce of adviser Peter Abramovich Belyaev. From his youth he took an active part in his father's affairs. Living in Arkhangelsk organized an amateur circle of quartet music, he himself performed a batch of second violin.
In 1884 he left active entrepreneurial activity, transferring the leadership of family forestry enterprises to the younger brother and indulged in the entire service of the interests of Russian music.
Since 1884, Mitrofan Petrovich Belyaev arranged at home in St. Petersburg (ul. Marat (then – Nikolaevskaya), 50) weekly musical evenings of chamber music, which laid the foundation for the unification of outstanding musical figures, later known as the Belyaevsky circle. Ordinary visitors to the Belyaevsky Fridays were n. AND. Rimsky-Korsakov, a. To. Glazunov, a. To. Lyadov and many other outstanding musicians-composers and performers; Here you could meet and. P. Borodin, p. And. Tchaikovsky, c. AND. Cui.
In 1884, the first of the Russian Symphony Concerts took place, which were also financed by Belyaev.
After the death of Belyaev, Russian symphonic concerts, lasting until mid -1918., Financed from the funds bequeathed to him by the care of the Council to encourage Russian composers and musicians.
In 1885, Belyaev founded in Leipzig a notoidal company M. P. Belaieff, Leipzig ". This company published in twenty years a huge number of Russian musical works, starting with romances and ending with symphony and operas. Belyaev bequeathed to the continuation and expansion of his musical business significant capital.
In 1904 n. AND. Rimsky-Korsakov wrote an orchestra prelude "Over the grave", devoting it to memory m. P. Belyaeva, his big friend and friend of all Russian composers.
By will m.P.Belyaeva was transferred to the Russian Museum to the Russian Museum of Portraits of composers Alexander Glazunov, Alexander Borodin, Nikolai Rimsky-Korsakov, as well as a portrait of the philanthropist himself, written and.E.Repin.
We recommend
"Musical apartment" Mitrofan Belyaev