The artist is Repin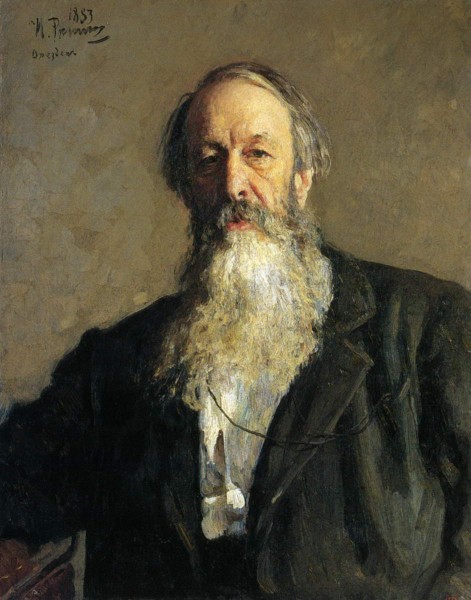 + Virtual excursion &Laquyagilev. START&Raquo >>>
– Hide the text of a virtual tour &Laquyagilev. START&Raquo
Complete the exposition of the work of the masters of the late XIX of the beginning of the XX century dedicated to the "Historical and Art Exhibition". Then in 1905 this section against the background of others looked less sensational and did not cause special audience enthusiasm. Meanwhile, he could also be proud of paintings that then firmly entered the history of Russian painting.
Repin for many years was with Stasov in close friendship. In his memoirs, he calls him "a knight in the noble sense of the word", "born for art", writes a lot and willingly about his "ardent temperament" and "exalted soul".
The famous Dresden Portrait was created during the trip of Repin and Stasov in Europe in the summer of 1883.
It so happened that friends got into Dresden for a holiday when galleries were closed there. Repin was eager to work and he, having set Stasov to pose, wrote a portrait in two days. In one of his letters, Vladimir Vasilievich Stasov described this event: "… the portrait was written for 14 hours, maybe with a little … But only one thing was beneficial from such a stubborn work, this is that Mr. Painter did not interrupt, and my pose is not either interrupted, there was no need to look for every time again, how to sit down and how I turn. My costume was, for convenience, this: only one coat, and a nightgown from below, even on my chest is a little revealed (which I did not even know, and Repin did not deliberately said so that I did not think to get better). Turn-right in front, there is no hands above the elbow, the pose is massive, the expression is something satisfied, but also a very serious person. And what this person was so pleased with? It must be very many: a trip, and a company, the scripture of the portrait (probably excellent), and all the more – our conversations … ".
Repin wrote a portrait "In one breath". His feelings sounded in unison with Stasov's feelings. The restrained, noble colorful gamut, a clear outline of the silhouette with a magnificent volumetric-spatial modeling and a jubilant, wide textured letter, where the embossed strokes are emphasized by the game of light and shadow-everything in the portrait is subordinated to an atmosphere of violent emotional delight, in which the artist and his model on a European trip arrived in a European trip.
E.AT.Amphilokhiev, e.AT.Stankevich and N.AND.Fedorova. Materials for a virtual tour of the exhibition "Diaghilev. Start". 2009
Go to the beginning of the virtual tour "Diaghilev. START"
Stasov Vladimir Vasilievich (1824–1906) – the largest Russian artistic and musical critic of the second half of the 19th century, art historian.