The artist is Repin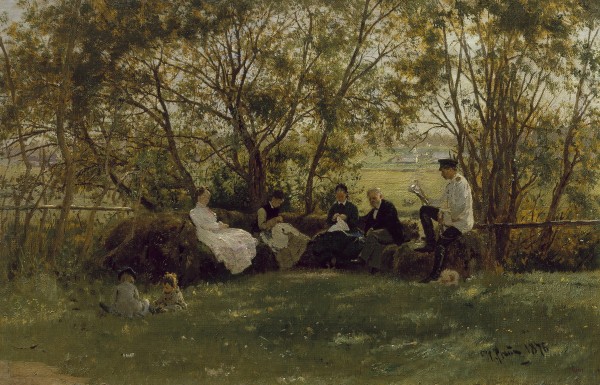 A number of remarkable impressionistic canvases were created by realist Repin, including the pearl of this current in national painting – "On the turf bench ". The genre canvases that became classics in many respects served the popularization of compositional techniques of impressionism in Russian painting. Exhibition catalog in Malaga "Seasons. Works from the collection of the Russian Museum ". 2015. With. 85.
In the summer of 1876, Repin returns to Russia and lives with his family at the cottage in Krasnoye Selo near St. Petersburg. A contemplative idyllic mood is imbued with the picture "On the turf bench", which depicts the daughters Vera and Nadezhda, wife and her relatives. Greenish-golden color scheme, light penetrating through the foliage of rare trees and forming light spots on the grass, a thin and confident brush that conveys the image details with fast strokes-all this spoke about the skills of field work, as well as the skills of the master with a new picturesque by force to interpret simple life stories.
Vera Alekseevna Repina (1855–1918), the artist's wife; Daughters Vera (1872–1948) and Nadia (1874–1931); Alexey Ivanovich and Evgenia Dmitrievna Shevtsova, parents of the artist's wife; Alexey Alekseevich and Maria Pavlovna Shevtsova, his Shurin with his wife.