The artist is a Cocebu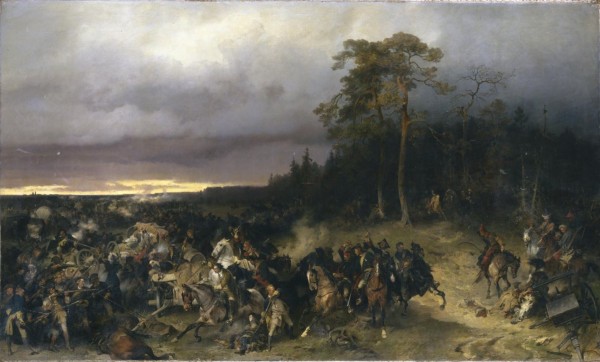 Lesnaya-a village in Belarus, not far from which during the Northern War on September 28, 1708, a 12,000th detachment of Peter I defeated the 16,000th Swedish corps of General Adam Levenhaupt. At the same time, the Russians captured a huge convoy with a supply of food for three months, artillery and ammunition. Peter I considered the victory at the forest "mother of the Poltava battle" – the main and victorious battle of the Battle of the Northern War (June 27, 1709), since the army of Charles XII after loss of the convoy was very weakened. Alexander Cocebu wrote on the order of the imperial court of battal paintings depicting the victories of the Russian army. The composition of Alexander Kocebu, dedicated to the battle of forest, is remarkable not only by the skill of building dynamic figured scenes, but also by the expressive interpretation of the landscape, which, with its anxious mood, increases the strength of emotional impact on the viewer.
Ekaterina Shilova. Exhibition catalog in Malaga "The Romanov dynasty". 2017. With. 158.