The artist is Semiradsky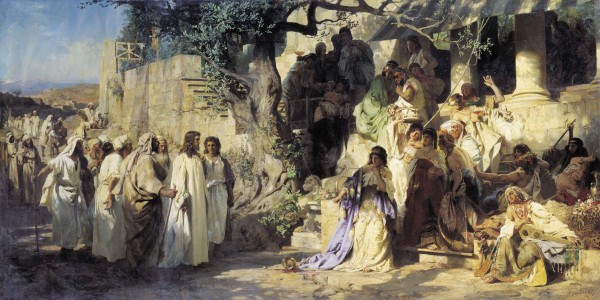 For this picture in 1873, Semiradsky was awarded the title of academician and medals "For art" at the World Exhibition in Vienna.
Tiflocommenting seminar "Understand and help"
44:24 – Tiflokommentaries to the "sinner" of Semiradsky
+ About the restoration of the work
– Hide the text about restoration
The state of safety before restoration:
As a result of the studies, it was found that the picture was previously transferred to a new canvas, but the documentary information about the restoration in the archives was not preserved. The transaction of the transfer to the new canvas was very popular at the end of the 19th century, but in the future was recognized as too traumatic for paintings. The main destruction in the picture was associated with the damage received during the removal of the author's canvas during the translation. This, as well as a long -term storage of the translation picture on the shaft, later led to strong surface deformations. As a result of this, a grooved layer with the soil from the translated canvas appeared. In addition, there were sections of stratification of painting with losses of a colorful layer in these places, soil craquelure.
Complex of the events:
The main and complex tasks were the operation to remove the translated canvas and the re -translate the picture to a new canvas. The process of such restoration after the complete removal of the old canvas implies the need to turn the picture that does not have the basis. This operation can be considered unique, given the size of the picture 2.5 x 5 meters. After protecting the colorful layer using a durable preventive brand, the picture on the shield was turned upside down and the old translated canvas was removed. The re -strengthening and pressing of the front side made it possible to completely eliminate the deformation of the colorful layer with the soil and strengthen the lag of paint in the places of stratification. After all preliminary measures to strengthen and align the colorful layer and the preparation of the back side, a difficult operation of bringing a new base from flax canvas was carried out. The picture was stretched on a new subframe and again got the opportunity to exhibit at exhibitions and in the halls of the museum.
Keeping a story. Restoration workshop of the Russian Museum – 100 years. SPb, 2022. With. 126-127.