The artist is Charleman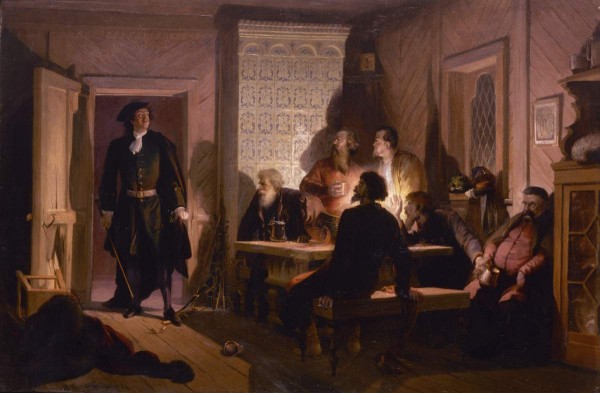 Streltsky lieutenant colonel Ivan Tsykler, who passed in 1689 to the side of the young king from the encirclement of Princess Sophia, was made by the Duma nobleman and governor in Verkhoturye, and then sent by Peter to the construction of the Taganrog fortress. After a few years, the "honorary link" of Tsykler, not satisfied with his position and introduced innovations, conceived, together with like -minded people from the boyar environment, to make an attempt on the sovereign. It was supposed to set fire to the house where Peter was, and during the fire to kill him. Devoted by two archers, the conspirators were exposed and sentenced to death. In the picture, Charlemagnes captured the dramatic episode on February 23, 1697, when Peter, having learned about the conspiracy, personally appeared at the place of secret gathering and arrested its participants. The artist, having immersed the room in the half and concentrating the viewer's attention on their faces, masterfully converted the conspirators and the determination of Peter frozen on the threshold. (WITH. To.)
Electronic catalog "Heroes and villains of Russian history". SPb, 2010. With. 163.
Programs/Films about this work in the media text:

Charleman a.And. Peter I covers the conspirators in Tsykler's house on February 23, 1697
Creation year: 2015 | Computer movie | Language: | Duration: 04:30
A film dedicated to the little -known picture of the artist Adolf Charlemagnes reveals one of the ominous pages of the era of the beginning of the Petrine reign. Her plot was a conspiracy against the king, who matured among the high -ranking boyars and the Strelets commanders. At the head of the conspiracy was Colonel of the Streletsky Army Ivan Eliseevich Tsykler, under the name of which the conspiracy went down in history.