The artist is Karazin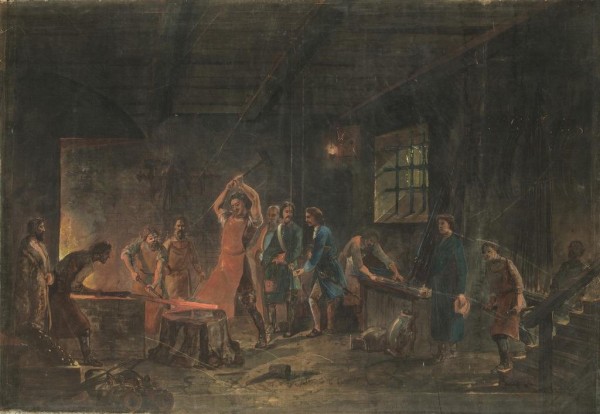 The picture refers to a series of thirty canvases on topics from the life of Peter the Great, which were written on the occasion of the celebration of the 200th anniversary of the emperor in 1872 and were exhibited on the Tsaritsyn Luga (Marse Field). There is no restoration. More about the series >>>
Video film about the picture from the project "30 paintings from the life of Peter the Great" (2022)
________________________________
Preparing for war with Sweden, the king decided to establish in the Russian -rich Russian and copper. The city of Tula, located at the intersection of important trade routes, was considered one of the most important defensive borders of Russia. The presence of a brown iron iron in these places contributed to the establishment of weapons, and here, by decree of Tsar Alexei Mikhailovich, the first ironwork plants were created. Over time, the families of the Kuznetsov who made firearms – Samopalas began to move to the city, and by the beginning of the 18th century there were a thousand gunsmiths in it. Peter knew and appreciated the local masters in 1696, passing through Tula, asked to collect the best blacksmiths for him, but no one dared to appear before the king. The only exception was Nikita Demidovich Antufiev, who, paying the attention of Peter, soon built one of the largest cast -iron plants in Russia, and then began the production of ore and established the production of high -quality iron in the Urals. In 1720, he received from Peter the nobility and a new surname – Demidov.
At the initiative of Peter I in the Tula Zarechye, a gun yard with forges and work huts was built, and the production of weapons increased significantly. In 1712, the first state rifle factory in Russia laid down the tsarist decree and, coming here, the king observed production, the development of which was necessary for warfare: the army and the fleet needed modern weapons.
In the painting Peter [depicted at the Tula factory, where he loved, putting on special clothes, inspire workers with a personal example. On the way from the Azov campaign, the king "with his own hands poured a strip with his own hands, in factories near Tula *. Among the people around him are the breeders Lev Kirillovich Naryshkin and a foreigner Miller. The gunsmith Nikita Demidov is preparing to demonstrate to the king the new weapon he had made by him.
Elena Kalnitskaya // 30 paintings from the life of Peter the Great. SPb, 2022. With. 134