Artist – Polenov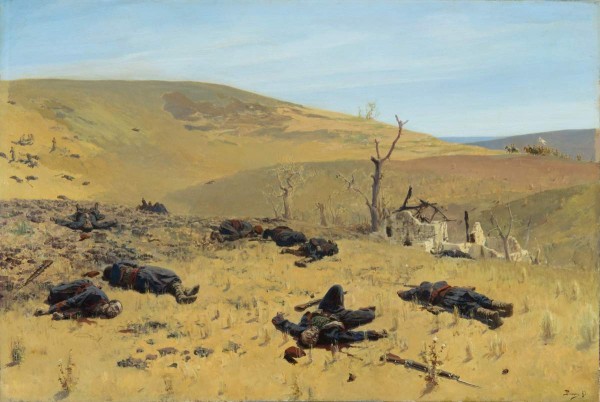 In the Russian-Turkish war of 1877-1878, painters Vasily Vereshchagin, Alexey Kivhenko, Pavel Kovalevsky, Lev Lagorio and others took part as art correspondents. They became witnesses and participants in combat operations. Later, based on sketches and sketches made by them, artists worked on monumental canvases dedicated to the main battles of this military campaign.
Grand Duke Alexander Alexandrovich, well familiar with the work of Vasily Dmitrievich Polenov, in September 1877 made a request to the conference secretary of the Academy of Arts Peter Isaev, whether the artist will agree to serve in the headquarters under the main apartment of the commander of the Rushchuki detachment. Consent was obtained, and in October 1877 Polenov went to the front.
Returning to Russia in March 1878, Polenov began working on a series of paintings dedicated to war. The artist completed the work on the series in the fall of 1883. The paintings were presented to Alexander III in the Gatchina Palace and he liked it: the Mirotor Emperor, who took part in the war, forever retained a deep disgust for her. Alexander III posted the canvases and sketches of the Balkan series of brush Polenov in the palaces of Gatchina and Tsarskoye Selo. Ten works from this series were subsequently included in the collection of the Russian Museum.
Ekaterina Shilova. Chronicle of the Rushchuk detachment. Grand Duke Alexander Alexandrovich and in. D. Polenov // Alexander III. Emperor and collector. SPb, 2019. C. 91.