The artist is Kuindzhi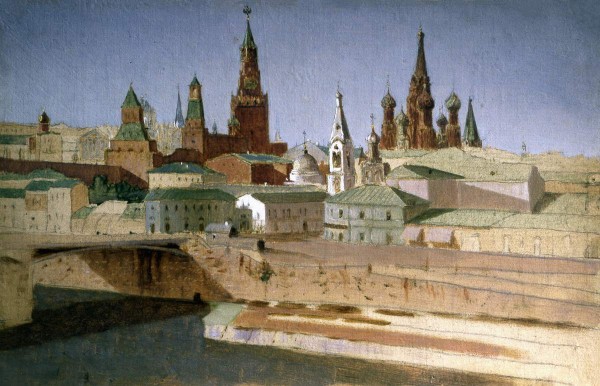 In June 1882, while in Moscow, Kuindzhi writes the types of Kremlin who attracted it. Created according to preparatory drawings from nature, these small paintings (see. Also "Moscow. View of the Kremlin from the Zamoskvorechye "(1882, ZhB-70), which are distinguished by a well-thought-out holistic and clear composition, are unique samples of an almost unsuccessful in the work of the artist of the city landscape. Avoiding a ceremonial nature or any deliberate angle, the master chooses the image of the image, which, from his point of view, best conveys the character of the Moscow Kremlin with his abundance of architectural monuments, which is overflowing on the background of the sky on a summer sunny day.
In the landscape "Moscow. View of the Moskvoretsky Bridge, the Kremlin and the Church of the Blessed Vasily "(1882), the famous structures are shown among the houses concealed the lower tiers of the cathedral and the Spasskaya Tower. Flashing under the rays of the sun with a bright red color, they revive a highlighted greenish-fucked gamut.
Irina Shuvalova. Kuindzhi in the Russian Museum // Arkhip Kuindzhi. SPb, 2010. With.fourteen.