The artist is Kuindzhi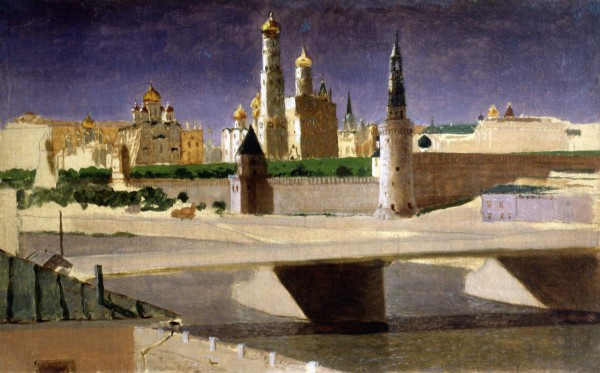 In the picture "Moscow. View of the Kremlin from the Zamoskvorechye "(1882) Panorama of the Kremlin is also given in some distance. Like the canvas "Moscow. View of the Moskvoretsky bridge, the Kremlin and the temple of Basil Blessed "(1882, ZhB-69), the work is not entirely over. It shows traces of the picture pre -applied with a pencil. The bell tower of Ivan the Great, Arkhangelsk and Assumption Cathedrals, spectacularly stand out against the background of a dark blue sky. They are shaken by a generalized interpreted greens behind the Kremlin wall. In large color spots, a close plan with a stone bridge has been resolved. Sunlight golds the dome, leaves light stripes on the walls.
The soil not painted in some places organically enters the overall color system. Kuindzhi admires the beauty of the Kremlin ensemble, enriching his stained landscape with decorative elements.
Irina Shuvalova. Kuindzhi in the Russian Museum // Arkhip Kuindzhi. SPb, 2010. With.fourteen.