The artist is Kuindzhi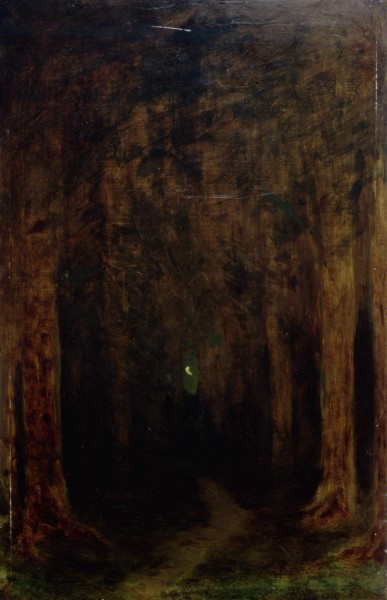 In the 1870s, in the work of Kuindzhi, elements of the imagery that will be developed by the artist in the future appeared. This also applies to the sketch "Forest at night "(1870s) with moon sickle in the lumen.
The gloomy greenish-brownish color of the sketch, which flashed in the darkness of a bright spot of the moon, transmitted by a short and accurate smear of yellow paint, massive trunks with huge rhizomes spread on the ground give work mystery and anxiety. This sketch already outlines the elements of the imagery that Kuindzhi will be developed in the future. The found motive, who aroused the creative thought of Cuinji with his novelty, was repeated by him later in another lighting and, possibly, gave an impetus to the creation of the picture of 1878 "Sunset of the Sun in the forest "(National Gallery of Armenia, Yerevan).
Irina Shuvalova. Kuindzhi in the Russian Museum // Arkhip Kuindzhi. SPb, 2010. With. eleven.