The artist is Kuindzhi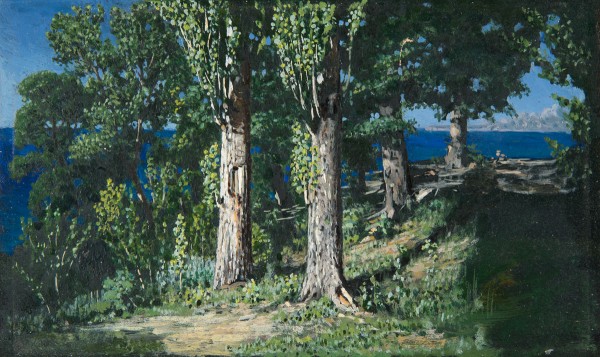 In 1886, the artist acquired a large section in Crimea near Simeiz, descending to the shore of the sea with a beautiful rock Uzun-Tash and spent many months there annually. The museum collection has dozens of studies dedicated to the southern nature close to him in spirit.
Among the few more detailed studies – "Cypresses on the seashore. Crimea"
The playfulness and direct pictures of many Crimean studies written in small strokes in the bright and pure color scheme, as if an accident, the unintentance of the motive taken brings them closer to an impressionistic vision, but the reflective environment is transmitted by the artist through tonal painting, and not the vibration of color.
Irina Shuvalova. Kuindzhi in the Russian Museum // Arkhip Kuindzhi. SPb, 2010. With.17.