The artist is Villevalde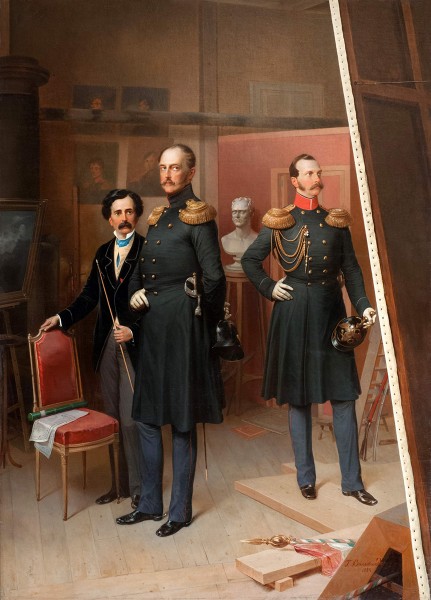 The plot was repeatedly repeated by the artist. Villevalde was very respect for Emperor Nicholas I. He was the only civilian to whom the sovereign allowed to wear a mustache, a military overcoat and smoke in his presence. According to the memoirs of Mikhail Claudt, the son of a famous sculptor, Nicholas I was very fond of visiting the workshops of artists Peter Klodt, Bogdan Villevalde and Adolf Ladürner, was almost weekly there. 1854, mentioned in the title of the picture, was very important in the artist's life: for the performance of a huge canvas "Russian Gergea's delivery", he was awarded the Order of St. Vladimir 4th degree. In the same year, the painter was sent to the army for the Danube to depict the "exploits of our troops" during the Crimean War. Placing three emperors at once in the picture, the artist emphasized his long creative path and significance at court.
Nicholas I. SPb, 2018. With. 115.