The artist is Aivazovsky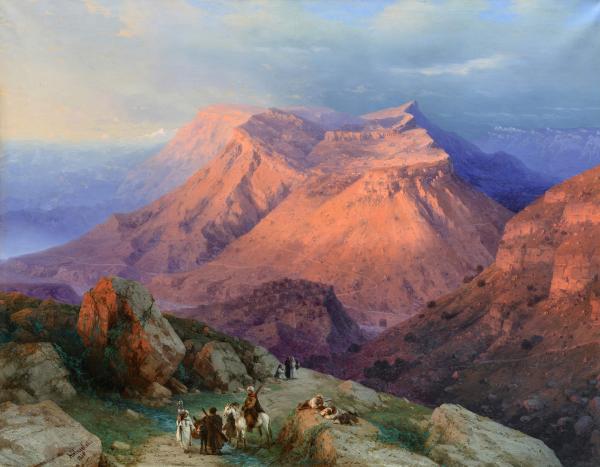 The mountain landscape unexpected for the famous Marinist was inspired by traveling around the Caucasus in 1868, during which he visited the aul Gunib in Dagestan. Almost a decade before, Shamil was captured here. The famous plateau, famous for clear weather (there is up to 310 sunny days a year), is depicted brightly lit against the background of a series of mountains that go to the horizon.
With a remarkably subtle sense of the single and the whole, the volume of mountains of fortification powerfully rising to the sky was written with steep slopes, cut by deep crevices and narrow paths. Boldly compares the former romantic artist's loudly contrasting planes of pure red-orange, bright blue and ultramarine flowers, anticipating the finds of painters at the beginning of the 20th century. Entitled "Guniba view from the eastern side" The picture was exhibited at the artist's personal exhibition in the winter of 1869-1870 in St. Petersburg, where Emperor Alexander II was acquired for the Hermitage.