The artist is Ge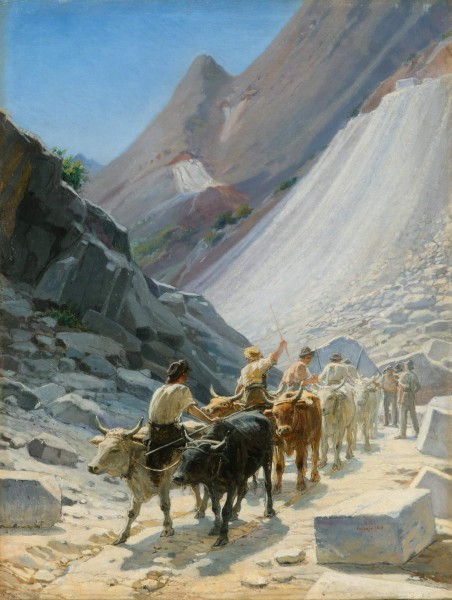 Having received a large gold medal for the painting "Agendor sorceress", Ge went on a foreign pensioner trip. He settled in Florence, which during a short period (1865–1870) was even the capital of united Italy.
At the beginning of his stay in Italy, Ger turned to historical stories from Italian history and decided them in the manner of his academic idol – Karl Bryullov. Soon in his works there was an interest in landscapes reproducing the nature of Italy. Ge created several landscapes of Carrara – the famous marble capital of the world, located at the foot of the Apuan Alps. In the 19th century, Carrara became one of the obligatory places included in the European Grand Prix in attractions.
In this work, the Ge is not a "postcard" form, but transfers the details of the extraction and transportation of marble blocks. Marblemers drive oxen that pull a large block. In the landscape, the playiery freshness and brightness in the transmission of the brilliant whiteness of the marble cliff, sunlight on the figures of people and animals are visible in the landscape. Perhaps the group of Tuscan artists McKyayoli influenced the picturesque manner of Gero. They sought to update the expressive language of their works in comparison with academic art and introduce everyday aspects from everyday life into the arsenal of plots.
The picture was in the personal collection of Grand Duke Alexander Alexandrovich in the Anichkov Palace and later entered the collection of the Russian Museum.